Eagles Mix Update
I made another shorter mix. Both are posted here:
Original Mix: NFC 2k5 "Drunk Sean Mix" - 6 minute .mp3 (right-click -> save as...)
New Mix: "Short Super Bowl XXXIX Mix" - 2 minute .mp3 (right-click -> save as...)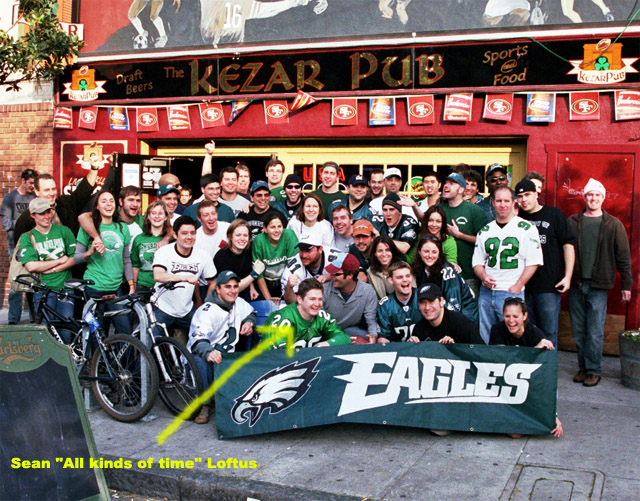 On Sunday night, January 16, 2005, after the Eagles spanked the Vikings, my good buddy Sean left me three drunken voicemails. Taking clips from those voicemails, Eagles highlights, and well known tunes, I made a mix which we played over and over at the Kezar during the NFC 2K5 championship game.
Here is a .mp3 of the mix (8Mb) -- you'll have right-click save-as to download it. My server is a little slow, so it may take a while. If someone has a server with higher bandwidth, feel free to post it! Just make sure to include a link to this page. Oh, and thanks to Survivor, Michael Jackson, Boz Scaggs, WYSP, and whoever wrote the Rocky Theme and the Iggles fight song.
I'm sure you can spot me, but in case you can't, I'm wearing the orange Flyers hat in the picture above. Want higher res images of the Kezar group photo? click here!
How about this? A picture of me, Heather, Brandon, Bryan, Allie, and some dude with a bird on his head that made it into the Philadelphia Inquirer on Wed. Jan 28! Here's the accompanying online article (login required)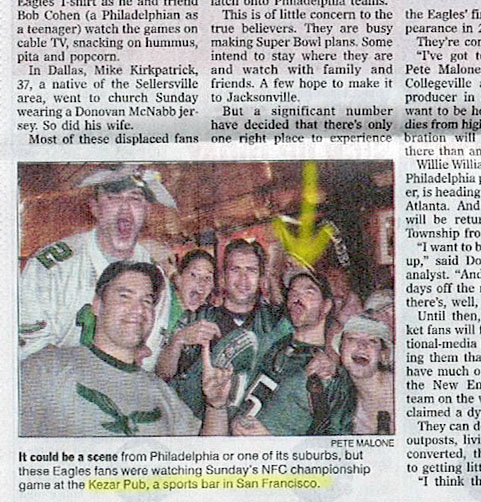 GO EAGLES!
johngreene.org
P.S. Eff the Pats