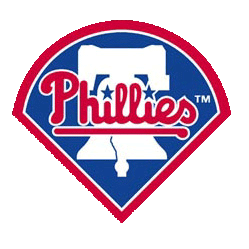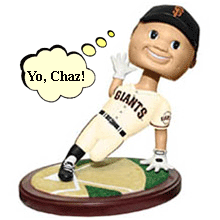 PHI @ SF
Thu May 13, 2004 - 12:30p
SBC Park


Final Score:
PHI 4 SF 3
preview | box score | recap
---
SF Philly Crew -- "Thome's Homies" -- in the hizzzoooo!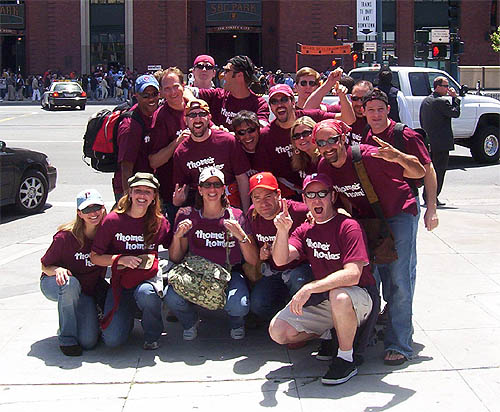 Update: May 31, 2004 -- Web Page updated with pics and links
Additional pictures from the game
Ofoto links coming soon...
Final list of attendees
| | |
| --- | --- |
| Name | Add'l people |
| John Greene | 0 |
| Philly Fred | 0 |
| Laura Hess | 0 |
| Brandon | 2 |
| Matt Schaeffer | 0 |
| Kat-Dawg | 0 |
| Matty | 0 |
| Loftus | 1 |
| Charles | 1 |
| ejsphilly | 0 |
| Flyers Jay | 0 |
| Philly Greg | 0 |
| Lawrence B | 1 |
| Philly Bryan | 1 |
| Kezar Marc Mason | 2 |
| Andy Ewald | 0 |
| Andy "Iggles" G. | 0 |
Group Name / Group Message
We get 25 characters for our "Group Message". It will be shown on the scoreboard sometime after the 3rd inning. We are:
Thome's Homies-Kezar Crew
Rumor has it that Charles has a line on some Thome's Homies shirts.
Ticket distribution, meeting, etc. (updated May 6, 2004)
There will be two meeting places:
1) Breakfast at Crepes On Cole (Carl/Cole) around 9:30a - 9:45a We'll chow down, pass out the tickets, and take the N down together.
2) Drinks at 21st Amendment around 11:15a -- remaining tickets distributed; much LIIT consumption :)
Important: If you don't think you can make it to Crepes or the 21st Amendment, let me know! We'll figure out a way to get you your ticket.
Misc Info, Q&A, etc.
Q: How much are tickets?
A: For Phillies fans, there ain't no charge. This is jg's treat.

Q: Are there any tickets left?
A: No, but they are still on sale through the Giants. If you wanna go with us or know anyone who does, just (tell them to) get tickets near our seats and come find us.

Q: Where are we sitting?
A: Section 305, Rows 12, 13, and 14

Q: Where are we meeting? How do I get my ticket?
A: See above. 9:30a at Crepes On Cole and/or 11:15a at the 21st Amendment

Q: When are we heading out from the 21st Amendment? What's the latest I can show up to get my ticket?
A: We will be heading to SBC Park at high noon! Show up at the Amendment before then, else you gonna be in a world of hurt.

Q: What's up with the shirts?
A: They should be in by game time (according to Charles). Barring unforseen difficulties, we'll have them for distribution at Crepes and the Amendment.

Q: Are we really all gonna be dorks and wear the same shirts?
A: yep... even Kat-dawg gonna wear one :)

Q: Anything going on after the game?
A: The hockey gods did indeed smile on us, Flyers/Lightning game 3 is right after the Phils game. Depending on how quick we can get out of there, we'll either hit The Kezar else we'll go to Zeke's. GO FLYERS! (5/31: just wait 'til next year)

Q: What's this I keep hearing about b2b?
A: Bay-to-Breakers is one of the coolest annual events in San Francisco. This year, b2b is on Sunday May 16, which is only a couple days after this Phillies game. Charles and his crew are NOT READY. They will be making another cool float this year. If you are interested in getting involved, talk to the BBQ Gov dude at

[email protected]

. Also, here is a link to last year's photos.

Q: What else?



---

Home | John | Heather | General | Photos | Engaged | Wallpaper


Last update: May 31, 2004