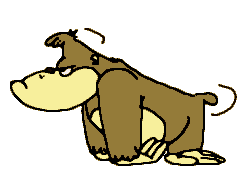 johngreene.org
October 2008
The Phillies are WORLD CHAMPIONS! A Picture is worth a thousand words...
April 2008
I finally launched my little side project: sfdesktop.com. What is it? sfdesktop.com is your one-stop shop for 3360x1050 and 3200x1200 wallpapers of beautiful, scenic San Francisco. There is also information on how to setup desktop wallpaper pictures across multiple monitors and how to do your own photo stitching, scaling, and cropping.
If you have two 1680x1050 or two 1600x1200 monitors and you love scenic views of San Francisco, sfdesktop.com is for you. There are multi-monitor wallpapers of Tank Hill, the Golden Gate Bridge, Corona Heights Park, the Conservatory of Flowers, and more. Of course now I'm too busy being a dad to do anything with it.
Update - September 2005
I didn't think I would ever do it, but I created a blog. This web page will continue to contain major life updates, but all the little stuff will go on the blog. Check it out. The log of my Backroads bike tripe has been posted. Click it.
Other stuff:
---
Update - August 2003
OK, I'm finally going to put something here. There's a Phillies/Padres game starting right now (10:30a PT - 8/3/2003). I'm tuned in on mlb.com gameday radio and will listen to the WPEN feed while I type. That'll give me a couple hours to get this started... assuming I don't get distracted.... yeah, right.
Musical Musings
Today (8/3/2003) is the 12th anniversary of one of the best concerts I ever attended: Phish @ Amy's Farm in Auburn, ME. (8/3/91). This show was amazing for several reasons. The most astounding was probably the attendance and the price. There were only about 3000 people there, and the show was free... contrast that to two day festivals like The Clifford Ball, The Great Went, The Lemonwheel, which had over 75,000 people shelling out around $150 for each weekend event. Phish was just starting to take off in 1991, and I was lucky enough to have been a part of it... in terms of being a fan, early involvement with phish.net, CoSA, and some computer consulting for the band. Want to see more? Check out this google search
This year's summer tour ends with IT which I will not be attending, unfortunately. How can I? It's happening right now :)
Two nights ago, another musical anniversary of sorts took place. Some friends and I went to the Warfield to see DSO (Dark Star Orchestra) -- a band that re-creates the Grateful Dead. Some people don't dig these guys, but I think they do a fantastic job. I will see them every time they come to SF. On this particular night, 8/1/2003, DSO played a show from exactly 30 years before: 8/1/1973. August 1st is Jerry's birthday, so we knew we were in for a treat. DSO did not disappoint.
A Cool jg pic and a cool jg shirt
When Heather and I traveled to Crater Lake recently, we stopped at a gas station called "JG's". Fa-fa-photo-op:
Next, I just ordered this awesome shirt from the Grateful Dead Store. It's cool enough that it's a Dead shirt and a Philly shirt (Liberty Bell Lightning Bolt) but 10/6 is also my birthday. I didn't attend this particular show, but it's still a great shirt for me and a great find by Brad Brown: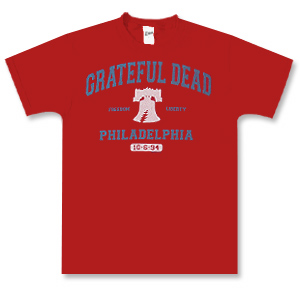 Lastly, we've been getting as many pics as we can on the website (see the Photos section).
Mesa just gave up a three-run homer in the top of tenth. Ugh. Game Over. Enough for now.
---

Home | John | Heather | Baby | General | Photos | Married | Wallpaper | sfdesktop


Last update: October 2009

Interests/Keywords: Floyd, Monkey, Phish, Phillies, 3360x1050, 3200x1200, 3360 x 1050, 3200 x 1200, sfdesktop.com, sf destkop, multi monitor wallpaper, jg, John Greene, Heather Spiller, Heather Greene, Romeo, Elvis, Zeke, Sonora, the best cat, Flyers, Sixers, Eagles, Phillies, Abington, Huntingdon Valley, Philly, Philadelphia, Phish, Grateful Dead, yeP!, Amherst, UMass, BEA, WebLogic, Monkey, Monkies, Poker, Art, San Francisco, Baseball, Football, Hockey, Basketball, Sushi, Uni, Toro, Japan, salesforce, cloud computing