Backroads August 2005: Bryce, Zion, and Grand Canyon Epic Biking
---
This page contains my report of the Backroads bike trip I took from 8/24/05 through 9/1/05. In addition to the daily log, there are direct links to the flickr slideshow, the backroads website (with trip description), partial scans of the bike "trip-ticks," etc.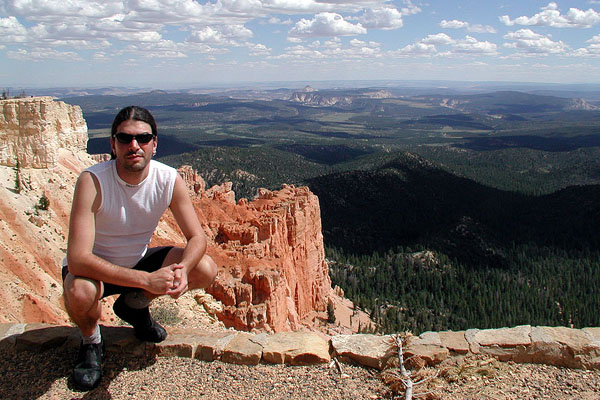 ---
Table of Contents, Quick Links, etc.
Some Links and images
Table of Contents, links to daily info, logs, etc.

Date
Trip Day
Details and link to log entry (inline below)
Snapshot
Cheat Sheet
Mileage/Altitude
8/23/05
Night Before...
Phillies game, final packing, and lack of sleep
8/24/05
Day One
Arrive in St. George, shuttle to Brian Head, short hike and ride
8/25/05
Day Two
Ride: Brian Head to Bryce Canyon (64 miles)
Snapshot
Cheat Sheet
Mileage and altitude
8/26/05
Day Three
Hiking in Bryce, afternoon bike ride to vista points
Snapshot
Navajo loop trail info
8/27/05
Day Four
Ride: Bryce to Kanab, UT (80 miles)
Snapshot
Cheat Sheet
Mileage and altitude
8/28/05
Day Five
Ride: Kanab to North Rim of Grand Canyon (81 miles)
Snapshot
Cheat Sheet
Mileage and altitude
8/29/05
Day Six
Hiking in the Grand Canyon
Snapshot
Kaibab trail info
8/30/05
Day Seven
Ride: Grand Canyon to Zion National Park(120 miles)
Snapshot
Cheat Sheet
Mileage and altitude
8/31/05
Day Eight
Hiking in Zion: Angel's Landing and The Narrows
Snapshot
Angels Landing | Narrows
9/1/05
Day Nine
Relaxing morning by the pool, head to Vegas to meet Heather
Snapshot
Some notes before we begin:
Throughout the log there will be many inline links. Click on them as you are reading to see a corresponding image (or web page)
These will be displayed in a separate window unless you ctrl-click on them in Firefox.
All flickr links are to the 1024x768 version of the shot
For the "start here" links, you'll need to have a flickr account, or you can just find the appropriate picture in the backroads set.
Night Before... - 8/23/05
On Tuesday, Dave and Laura joined Heather and me at SBC Park to see the Phillies beat up on the Giants. This was a welcome win after the letdown of the Abreu Crew the previous evening. By the time we got home, finished packing, and got ready for bed it was close to midnight. Wake up was set for 4:45a so Heather could drive me to the airport for my 6:30a flight. My plane was to land in Vegas at 7:55a and I needed to catch the 8:30 shuttle to St. George, UT, so I didn't want to check any bags. All I packed was one small suitcase and my big black butt pack
Day One - 8/24/05
Heather dropped me off at the airport in plenty of time for me to check in, go through security, grab coffee and water, and make it to the gate during initial boarding. I had yesterday's Howard on my ipod and was ready for the short flight. The flight wasn't full and the "middle" seat (between me and the person with window seat) was empty -- so far so good.
My plane landed on time, and after grabbing a Quizno's veggie sub to go near my arrival gate, I found the Shuttle to St. George with 15 minutes to spare.
Only one other backroads person, Chuck, was on the shuttle with me -- we'd meet the rest of the folks later. After some initial howdy-dos, I went back to listening to Howard, lay down, and dosed off here and there. I was still pretty tired from the events of Monday and Tuesday, and not entirely over the bug I had picked up the week before. I think the shuttle driver was an ex-NASCAR guy or something. He was absolutely flying up I-15. I don't know how you can control a van pulling a trailer like that, but at least he got us there in one piece.
When we arrived at St. George, we only had to wait 15 or 20 minutes before the Backroads van and trailer (photo from Grand Canyon) showed up.
Once on the van, folks were a little more chatty. It was a small group, so we all got to know each other instantly. Picture the cast (and theme song) of Gilligan's Island (RIP Bob Denver) as you check out the following peeps:
Our fearless backroads leaders

Matt (a.k.a. "Lance" and "Little Apple Dumpling"). Matt's a St. Louis Cardinals fan, but I won't hold that against him

The crazy-ass bikers
According to the itinerary, today was supposed to be pretty tame. We were just going to drive to Brian Head, have a picnic, get fitted for our bikes, head to the Inn, relax, have dinner, hang out, and get a good sleep. Since our group was small, however, our fearless leaders decided to spice things up a little bit.
We got to Brian Head and had our picnic as planned, then Jill led us on a short hike while Matt stayed back and got our bikes ready. The route was around the edge of a Bryce-like canyon, the terrain was mellow and the trail was nice, but the altitude hit me like a ton of bricks. I guess it was better to get used it during a short hike than on the big climb that awaited us tomorrow morning, but I was huffin' and puffin' big time -- coming from San Francisco, even a short hike at Cedar Breaks' 10,000 feet really hit me hard.
After the hike we returned to find our bikes all ready to go. Matt also had Queen's Bicycle Race playing on the van's stereo -- a very nice touch. We then embarked on a short "warm up" ride down to the Cedar Breaks Lodge -- our home for the next 14 hours.
This place was a little strange... it's basically a little ski resort, so it was pretty dead in the summer. I wish I had brought my camera to dinner so I could have taken picture of "Chef Paul." This guy had a schtick-and-a-half. We were all sitting down in this hang-out area, eating appetizers, drinking beers, and going around the circle introducing ourselves and this guy basically interrupted one of us (I forget who) mid-sentence to tell us about I-don't-know-what for about ten minutes. To his credit, dinner was pretty dang tasty, though it didn't hold a candle to the dinner we got in Kanab, but we'll get to that later. I'd like to point out that the mack-daddy app was this smoked trout. I had no idea but I guess Utah is major trout country because it was available at most restaurants (for both breakfast -- a la lox -- and dinner.)
By the time dinner was over, my sinuses were absolutely killing me. The combination of the end of my cold plus the altitude was having a terrible effect. I decided to skip dessert and retire to the room, but not before swiping the salt shaker. The plan: a salt bath (w/ jacuzzi) and (on Chuck's recommendation) snorting some hot-salt-water. Yep, you read right, I wasn't just inhaling steam -- my usual remedy -- nope, this was full blown salt water snorting. It was rough, but I gotta hand it to the big guy... it totally helped.
I was in bed watching some late baseball by the time Johnny got back to the room. He and I were roommates during the trip. Fortunately for me, Johnny's a big baseball fan too. Unfortunately for him, the altitude only amplified my normally effervescent tendances. Farrrrve.
After a solid breakfast at the lodge, it was time to get ready for our first ride. It was a bit chilly in the morning, but no worse than a typical morning in SF. We filled water bottles and grabbed some snacks as Jill explained how the day was to unfold. The route for the day looked like this:

The initial climb had some pretty serious grades. That combined with the altitude just about killed me. Once I passed the summit, though, I was rewarded with a nice long downhill en route to Panguitch.
Along the way, I stopped to take some pictures of interesting scenery. In just about all of the pictures, I draped my Camelbak and Phillies hat over the bike and framed the shot for perspective. Here's one of a lava flow. There was a ton of the stuff over a few miles of the road. Soon I passed Panguitch Lake and made my way down to the Sevier River Valley. This is when the rain started to fall. As I mentioned to Sarah earlier on the trip, I have great weather karma on trips like this. :) For days she kept telling me to shut up (as if I could possibly jinx my own weather karma) but by the time we got to Zion, she gave the props where they were due. This little sprinkle in Panguitch was the only rain of the trip.
After a great lunch at the designated picnic site, we headed out for the afternoon leg of our ride en route to Bryce. After an uneventful stretch on 89 South, I made the left onto 12 toward Bryce. I stopped briefly at Bryce Canyon Trading Post to get something for Heather, and continued on for what was one of the best rides of the trip: the bike trail at Red Canyon. During the six mile climb on the path, there were some wondrous sites: like this as well as a silly bike sign.
I eventually arrived at Bryce and I was zonked. This would actually be the easiest of the four long rides on the trip, but it was still a lot for me. I think my longest ride in training was about 40 miles -- this was 64.
Dinner at the Byrce lodge wasn't bad. I think I had the steak again... also, dinner came with soup and salad bar, and just about all of us got the famed "apple dumpling" for dessert -- yum. All that riding really gave us quite an appetite... we all ate a ton, especially Sarah ;)
Man, I wish I had gotten a picture of our waitress. She wasn't the cycling type... I'll just leave it at that. She said that her idea of a vacation was sitting on the beach with some pool-boy bringing her Mai Tais. Just picturing her vacation brought a combination of shudders and giggles from the backroads crew.
At around 9:30p, a few of us met at the Bryce rim to look at the stars. I used my cell phone to light my path in the pitch blackness. I still wound up in some weird parking lot before I found the meeting spot. It was amazingly clear so we could see the milky way and umpteen thousand stars. We even saw a couple shooting stars. I wouldn't even try to capture it with my digital camera, but it was absolutely amazing.
Day Three - 8/26/05 - Snapshot
The itinerary today was simple: Bryce hike in the morning and an optional ride in the afternoon (up to some vista points.) Considering the next two days were to be back-to-back 80 mile rides, I figured I would sleep in a bit, do the morning hike, and take it easy in the afternoon. But I wound up getting up for sunrise, doing the hike, and riding about 3/4 of the optional ride in the afternoon!
Let's start with the sunrise. The flickr pictures pretty much tell it all here. Below is the sequence of the sun rising. I tried to keep the camera somewhat steady, but it varies a little
As the sun started to light up the canyon, I took a few more shots. Here's one of me.
After a nice breakfast buffet at the Bryce Lodge, it was time for our hike. As we were about to begin, a squirrel posed for a a nice picture. As we descended into the canyon, I took a boatload of pictures. Unfortunately, no camera could capture the amazing field of vision in the depths of Bryce. To start the hike experience, start with this one (the top of the Navajo trail) and, on the flickr interface, click the link to go Back to the Flickr photo page, then click next six times. This will take you through "wall street" and eventually down into the trees.
The pace was one of leisure and wonder. Having visited Bryce 20 years earlier on my Baron Teen Tour (Hi Mike!) it wasn't brand new for me but it sure seemed like it. At times I would let some of crew get ahead so I could get a picture like this.
Every now and then we would see one of these crazy twisted trees. Apparently, because of the snow melting, water runoff, etc., the water for the tree is on one side early in the season and on the other side later in the season. This causes the tree to turn ever so slightly. After many years, it's like a big spiral.
Now check me out here, click the link to go Back to the Flickr photo page, and then click next 4 more times which takes us to a place where can look up to see people at an amazing lookout point. Can you see the people on top of the cliff? Maybe you need the 3 megapixel version -- we will eventually hike up there.
Here's a cool picture of a natural arch formation. Many of the pictures which follow (like this one) show the arch from much farther away. Maybe this provides perspective on just how massive this canyon is. Here's the view from that lookout point. We finally made it!
The walk back along the rim was nice and mellow. We saw a tree with strangely exposed roots. I suppose the surface earth all eroded away.
After a simple lunch back at the cabin, we headed out on the optional ride. It was an 18 mile rolling climb up to several vista points. Since it was basically an "up and back" ride which was mostly a climb on the way up, I was originally going to just ride in the van up to the top and bike back. But for some reason I decided to bike to the first vista point. Turns out this point was more than half of the ride as well as the majority of the climb. Duh. What was I thinking?
Anyway, here are a few cool shots from that ride:
Later that evening, after another dinner at the Bryce lodge, Jill and Matt arranged a special dessert by the rim of the canyon for sunset: pie and ice cream! That picture is a little washed out because the sun is setting behind us, illuminating the top of the canyon.
Here's a cool shot of a cloud that was lit up at sunset. Notice all the people standing on the lookout point below the cloud. Pretty sweet, huh? The gang was all similes after the pie.
Bryce Canyon is truly a wondrous place. Visit this website for information on visiting, take a virtual tour, and click here to learn about all those cool formations (called hoodoos)
Another long day of riding today: from Bryce Canyon to Kanab, UT. The route info is shown here:

This was the only day I rode with a buddy: Jill and I rode the entire morning together. Her natural pace was a little bit faster than mine, so she led most of the time while I drafted. Unless you're an avid biker or follow The Tour, you may not know how much energy you save by drafting. While it's better with more numbers, you can actually save quite a bit of energy by drafting behind one person. Here's some cool info on how it works.
The first part of the ride was backtracking on Route 63 and Route 12 (and the accompanying bike path) and was mostly downhill. Once we turned left onto Route 89, the ride was flat and uphill most of the way. Jill and I kept a good pace, stopping for pictures from time to time. Here's one of me and one of her. And here're some moo cows -- aren't they cute?
On the final climb of the morning, we had a little rain scare: the clouds kinda came in and we felt a drop or two -- but no real rain actually fell. When we reached the peak at Long Valley Junction, I was beat and ready for lunch. Fortunately it was mostly downhill to the lunch spot (including a nice stretch of 6% grades.) Just as we came down the final hill to the picnic place, we saw Sarah, Brian, Johnny, and Chuck fading from view. They had finished lunch and were heading out on the second leg of the trip. We missed them by about 30 seconds.
During lunch, we met the proprietor of this little picnic area and camp site. He was a nice guy and he had two really cute dogs -- sorry no pictures. I gotta give Matt and Jill some props on these lunches. There was always some kind of fresh salad (greens or pasta), cold cuts, veggies, hummus, cold drinks, etc. I'm sure being famished from riding helps, but man those lunches are good.
Looking at the remainder of the route, I decided I'd bike the 12 miles to Mt. Carmel junction and then get a ride up that 5 mile climb to the summit before biking the final descent into Kanab. I probably would have biked the whole thing if the toughest ride of the trip weren't the following day. I figured I'd save a little bit of my energy, and hey, this is a vacation after all.
These twelve miles sported some amazing scenery (like the Elkhart Cliffs) as well as some weird campground/tourist stuff. I wonder if anyone who works there actually realizes that the "N" stencil is backwards in this shot. What the heck is "greenware" anyway?
After my "bump" up the hill, the ride down to Kanab was awesome. There were all kinds of weird rock formations along the road and there were virtually no uphill sections at all.
When I reached Kanab -- The Greatest Earth On Show -- I was soooo ready to be done for the day. It was hot... probably above 90 degrees and I just wanted a shower and maybe a dip in the pool (we were saying at a Best Western and were told that the pool was nice and mellow.) What we didn't know is that Saturday 8/27/2005 was the most happening day of the year in Kanab, UT. It was the final day of the 2005 Western Legends Round-up. This was the real deal -- real cowboys -- celebrating 50 years of Gunsmoke. Here was the line up from Saturday (picture taken in the evening.)
Suffice to say, our Best Western was packed with all kinds of people and the pool sported a dozen screaming 8 year-olds. So I blew off the pool, showered, watched a bit of the Little League World Series with Johnny and headed out to check-out the Roundup with Sarah. There were prestigious musical acts, like these guys, and lots of folks vending everything from pottery to dog & cat plaques. One soon to be mom was offering bucket rides via her John Deere tractor. There was even a real life cattle rustler, horses pulling a carriage, and a petting zoo. Yeeeehaw.
After Sarah and I seen all there was to see, we went back to the motel and checked our email. On the way, we passed a cute store called "Special Tees." I wanted to buy this shirt (front | back) for Heather, but they didn't have it in a tank top.
The pre-dinner activity was some beers by the pool (no glass in pool area) and reviewing the "snapshot" for the following day. Ben was absent from our activity. He didn't want to take the bump so it took him a lot longer to make it. To his credit, he rode every friggin' mile of the trip. But on the longer rides, he came in rather late. Oh, on the way to dinner, we saw a sweet corvette with an even sweeter decal. I absolutely had to get a picture of it. I guess they are big Andy Reid fans in Utah.
All trip long, Matt and Jill had been raving about how awesome the Kanab dinner would be, and they were right on the money. It was called The Rockin V Cafe and it is, without a doubt, the best restaurant in Kanab (and possibly the state!) On the upper level of the establishment, there was a nice gallery with all kinds of paintings for sale. I know you're not supposed to take pictures, but I had to get one of these cute kitties.
Once we sat down, and looked at the menu, our mouths began to water. If the fun-to-look-at-but-not-very-bright hostess could hold a camera steady, this shot of all of us at the dinner table would have been awesome. We started with some apps and some beer. Every single thing they brought to the table was amazing. Our waiter had a bit of an attitude (I can't remember his name) but the food more than made up for him.
Here are a couple shots of the food. A few people (me included) ordered the buffalo ribeye, and it was absolutely fantastic -- on par with the Caribu I had at Whister a few years ago. Sarah got shrimp with pasta. After everyone stuffed their faces with their salads and entrees, how could we possibly have room for dessert? Just ask Jill and Matt who ordered three desserts between the two of them. :)
After dinner, we all took a walk down Kanab's main drag. It was Saturday night so something should be going on, right? Bzzzt. Absolutely NOTHING going on in Kanab, UT. Johnny tried to get the party started, but we were destined to hang out in our room, watch a little SportsCenter and get up early.
OK, here it is: the BIG RIDE. While not the longest day of the trip, the long climb from Fredonia to the entrance station of the Grand Canyon was killer. No bumps for me today, I definitely wanted to ride the whole thing. Check out the altitude gain from the Kaibab National Forest to Jacob Lake on the altitude chart below - yikes. Also, it's important to note that the ride from Jacob Lake to the Entrance Station isn't just a slow climb. It's a bunch of rolling hills so there's lots of little uphills and downhills even though the whole thing is a climb overall.

We were supposed to have breakfast at this cool cafe in Kanab, but we decided to just eat at the van, pack our lunch and head out quick. We had to get going early because the ride from Fredonia to Kaibab is the desert. It's hot and totally exposed. You don't want to be riding that stretch with the hot sun beating down on you. I think I left around 7:10a. Check out how long the shadows are when I crossed into Arizona. I passed Ben on my way to Fredonia, and got through the desert region before 9am so I was in good shape. It's hard to tell from the pictures, but man, it was a long, seemingly endless, stretch of road.
By the time I started the big climb, it was getting hot. I had a full camelbak so I just took my time, rode at my own pace, and stopped here and there if my heart rate got up too high. At about 6700ft, I stopped at the LeFevre overlook which had an amazing view of the grand staircase. It's really too bad I didn't have a polarized zoom lens, because this picture just doesn't do justice to the view. Just before I reached LeFevre, I blew out my back tire on an uneven shoulder. Fortunately, Jerry was there in the second support van and changed my tire while I was taking pictures :)
The rest of the climb to Jacob Lake wasn't quite as bad. I think the altitude map is a little misleading. When I got there, I stopped for a little while to eat my sandwich and to call Big Nose Bob from a pay phone. I also saw some Mormon fundamentalists which was a little freaky. I didn't feel right taking pictures of them, but suffice to say, it was a sight to see. They were dressed from head to toe with thick flannel shirts and baggy pants. I'm told they wear long-johns underneath too. This is in 80+ degrees sun, mind you.
After lunch, I continued on the ride and didn't stop to take many pictures until I got to the meadows section. This was such a nice mellow ride with gorgeous rolling hills -- after all that climbing, I was ready to ride at a more leisurely pace.
When I reached the Entrance Station I stopped to take this picture and stretch a little bit. As I was about to get back on my bike, way off in the distance, I saw a tiny dot of yellow. It was Ben. He had obviously stepped up his pace and was cruising at a nice clip. I decided to wait for a couple minutes so that we might ride the last stretch together. But instead of stopping when he reached me, he blew right by me without as much as a hello. As strange as this seemed to me, I chalked it up to Ben being Ben, so I hopped on my bike, kicked it up a notch and left him in my dust. :) I rode hard down to the North Rim and even drafted behind Jerry (in the van) for a mile or two. I wasn't going to let Ben catch me, not after the "entrance station snub."
When I reached the cabin, Johnny was hanging out on the porch, sitting on a rocking chair, drinking a beer. We hung and chatted a bit and then I hit the shower. By the time I got dressed it was almost time to meet up for dinner. We all met a this bar outside the Grand Canyon lodge. We had a round of Heffeweizen and listened to some good tunes on their satellite radio system. Sarah posed for a picture as decoy while I zoomed past her to take a picture of this guy. It didn't come out too well, but man, he was a riot: with that big belly and homemade tank top Hooters shirt.
Dinner tonight was at the Grand Canyon Lodge. This place is built right on the rim of canyon -- the views are spectacular (better pictures coming from tomorrow's dinner.) Since tomorrow wasn't a biking day, we decided to get some drinks. Johnny looks a little lit, doesn't he? :) The food here was very good -- much better than Bryce, but not quite as good as Kanab. You can see how nice and pink my steak is that "Johnny lit" picture. Once again we ordered more food than eight people should be able to eat, but I guess that's what happen when you burn 5000 calories a day..
After dinner, I was zonked. I think some other folks hung out, but I just wanted to sleep. I went back to the cabin, put on my ipod for a little while and was out like a light.
Day Six - 8/29/05 - Snapshot
As the snapshot says, today was supposed to be a day of rest... and I had every intention of sleeping in til at least 8am. But Johnny was up at 5:30a and headed out to the canyon to see the sunrise. As I lay in bed I thought about what was more important: sleeping for a few hours or seeing the sunrise at the Grand Canyon. It was no contest. I threw on some clothes, grabbed my camera and headed down to meet Johnny at the lookout point below the lodge. Johnny took a picture of me on the rail and then we waited for the sun to come up.
If you start at this picture, click the link to go Back to the Flickr photo page, and click next 19 times, you can see the sequence of shots I took with the sun coming up. If we were staring directly across the canyon, the sun was coming up behind us and to the left (at about 8:00). Some of the shots are of the canyon and some are pointed back toward the sun. Every few seconds, more of the canyon was being lit up by the sun. It was really amazing.
When we were all sunrised out, we went to the lodge for breakfast and found sleepy Sarah already seated. We had a nice meal and talked about what we wanted to do that day. Sarah and I decided that we would go on a hike in the morning while Johnny wanted to ride. After breakfast, I took a few more shots of the canyon (3 more, click next) and then headed back to prepare for the hike.
The plan was to hike 2+ miles down the North Kaibab Trail to "the tunnel." This trail is straight downhill for 14 miles to the Colorado River. Going down is easy, but we knew that coming up would be tough, especially as it got warmer. It was about 1.3 miles from our cabin to the trailhead. Along the way, Sarah spotted a cute little birdie. Even looking right at it, it took me about 30 seconds to actually see it. Amazingly, he stayed put long enough for me to get the shot.
The view from the trail head was amazing. The air was clean and crisp, and the visibility was virtually unlimited. As we descended down the trail we took all kinds of pictures of the beautiful scenery and got to know each other quite a bit better -- in many respects, Sarah and I are cut from the same cloth. With me in my Phillies hat and her in her Cubbies Visor, we were two Jews errr. peas in a pod :)
About a half mile into the trail we hit the Coconino overlook and continued down through some nice twisty passages and eventually made it to the tunnel. Here's a picture looking back up at Coconino and here's one of some folks riding huge mules.
The hike back up was the real deal: it was hot and it was steep. We saw a big ass snake too, but I couldn't get a shot of him. I can't imagine hiking all the way down to the Colorado. Actually, the hike down would be fine, it's the hike back that would kill me. There's a campground about 1/3 the way down, and another at the bottom. I guess it wouldn't be too hard to hike down in one day and hike back in two, but I can't imagine hiking out in a single day.
Here's a trail map. Look how far it is (or is not) to The Supai Tunnel. Amazing how long this trail is and how little of it we covered.
When we got back to the top, it was getting close to picnic time, so Sarah and I headed back the access trail to the lunch meeting point. This is when we ran into Ben who hit us with another priceless one-liner. "Hey Ben, where ya headed?" Sarah asked. Ben dryly replied, "Wherever I feel like," or something to this effect. Gotta love the Ben-ster.
When we got to the picnic spot, the table was lookin' sweet and Matt was preparing some yummy chicken. Oh, there was also this antique car convention going on. We probably saw more than 100 of them over the weekend. Here's one that was parked near the van.
After lunch, the whole gang (minus Ben and Johnny) took the van up to some scenic lookout points. Start with this one, click the Back to the Flickr photo page link, and click next six times. Here's a nice group shot (thanks, Jill!) Later, back at the canyon, I took a bunch of shots (start here, or here if you don't have a flickr/yahoo account, then click the Back to the Flickr photo page link, and click next eleven times) from the same spot as the sunrise shots. With the sun overhead and heading West, the canyon looks totally different. As Crackhead Bob would say, "doe-dally daw-dumb. Here's a cool shot showing a lecture outside the lodge.
Before dinner, we met outside the lodge to go over the snapshot for day seven -- the ride to Zion: Matt and Brian were looking all cute and happy. Here, we are being led to our table in the corner by the window. After the sun went down, we finally got a good shot of us in the lodge, with the canyon in the background. After another solid meal (sans alcohol), Sarah and Jill had a red-light district audition. I'm not sure, but I think they got the part. :)
Post-dinner activity? Sleep. Hey, I got up 5:45a and we're riding 120 miles tomorrow!
Yawn... another early start. Here's a picture the moon just before the sun started to rise. Another eat-breakfast-and-pack-lunch at the trailer day. Not only was this the longest ride of the trip, but we will lose an hour going from AZ to UT onaccounta AZ doesn't practice daylight savings. The route is almost the exact inverse of day 5. In fact, in the first leg of this day takes as all the way back to Kanab. It looks like a walk in the park back to Kanab, doesn't it? Don't bet on it. Read on...

We were warned that it can be quite chilly for the first leg of the ride. Not right around the canyon (it's always warm around the rim because the canyon acts like a big furnace) but a mile or so away from the rim. Even though it looks like the initial ride is a climb, there's actually a short descent before the climb. As I started down the descent, I was comfortable in my windbreaker and wondered how much colder it could get. What happened next was quite possibly the strangest weather experience of my life. Without warning, the temperature dropped about 20 degrees (from around 60 to 40.) It wasn't like it happened over a 1/8 or 1/4 mile -- it just happened instantly. One second it was 60, the next it's 40. It was literally like riding into a walk-in freezer. After shouting a few obscenities, I adjusted to the temperature change and proceeded to pedal the next 3 or 4 miles with my hands in my jacket pockets. I have pretty good balance, so it wasn't hard for me to ride with no-hands, but man, it was cold cold cold.
Sarah and Matt passed me during this stretch and we traded exclamations regarding the weather. Over the next 10 miles, it would warm up 5 or 10 degrees and drop back down depending the terrain. Finally, as I approached the entrance station and the sun started to take effect, the temperature stabilized and the ride got more comfortable. Later, Matt admitted that while there is often a temperature change, he never experienced anything quite as dramatic as that.
I didn't take many pictures on the way back, though I did take a few shots of things I missed on Day 5. e.g. this elevation sign. I'm not sure what my fascination is with signs like this but there's definitely something going on with that. :)
I'd been looking forward to the steep descent from Jacob Lake to Kaibab National Forest, and even the ride across the desert to Fredonia (which has a slight downgrade the whole way.) The problem was, there was a nasty headwind the entire time! I would have preferred to ride uphill with a tailwind then deal with this headwind. It was relentless. At least it was a bit clearer today, so shots of the grand staircase came out a little better.
When I finally made it to Fredonia I was beat, but I still had to ride another 7 miles to Kanab. The thought of lunch and a nice air-conditioned ride up the hill out of Kanab (my "bump" for today) were the only things keeping me going. The lunch place was the Vermilion Cafe (the would-be breakfast place from day 5) and they make a mean turkey/cranberry sandwich. Yum.
After lunch, Jerry gave me a ride up the hill out of Kanab. With this bump, it was still a 109 mile day -- my first century! As we drove up the hill, I was so happy with my decision to do the bump. Not only was it hot, hot, hot, but they we doing all kinds of road work, so there was tar, oil, gravel, closed lanes, the whole nine yards, yuck!
Jerry let me out at the top of the hill and topped of my Camelbak. I started riding a bit and I promptly took this picture. The descent into Mt. Carmel Junction was a joy. The headwind had dissipated and the grade was smooth and steep. :)
Speaking of steep, the final climb to Zion was intense. It was really steep and seemed to go on forever. It was also probably about 90 degrees. Somehow, I had some extra gas in the tank and got up it pretty quickly. Before I knew it I was at the entrance to Zion National Park. This guy offered to take a picture of me at the entrance. Once past the welcome station, the ride was amazing.
When I got to the second tunnel (there are two tunnels, one which bikes can ride through, one which they cannot) I waited for the van for around 20 minutes, but it didn't come. Matt and Jill told us to try to hitch a ride through the tunnel if we could, so when a pickup truck finally came by, I stuck my thumb out and this old dude stopped and picked me up. I threw my bike in the back and he took me through the tunnel. It's long... a few miles maybe, and it's narrow -- no wonder they don't let bikes through! The guy was a little weird, but everything turned out OK.
Once we cleared the tunnel, he stopped, let me out, and I got back on my bike -- it was smooth sailing and absolutely spectacular for the rest of the way. The ride was a series of switchbacks cutting through an incredibly steep slope. This picture is really the best I could do to show the awesomeness. Look closely at the dark section in the foreground and you'll see my bike leaning up against the wall of the road. If you were to peer over the wall it's like a cliff with a twisty road below. The road continues to the right (in the picture) and eventually does a 180 left and then another 180 right, and so on to zig-zag (or switchback) down the canyon.
Plenty of people visit the Grand Canyon, but I'm surprised how few make it to Zion. Of Grand, Bryce, Arches, and Zion, I think Zion takes the cake. None of my pictures of the descent into Zion do justice to the beauty and awesomeness of this place.
When I finally got to the hotel (just below Zion in Springdale), the gang was waiting for me with an ice-cold beer. We sat around, drank our beer, and gushed about the incredible descent into Zion. Soon it was time to get ready for dinner (sans Ben) so I grabbed a quick shower and headed out to meet the gang on our way to "The Pizza Noodle" (the place was actually The Pizza and Noodle Company) but Johnny called it Pizza Noodle and that sounded better to us. :)
At the restaurant we each ordered our own two-person-sized pizza and a couple pitcher's of Utah's version of Heffeweizen. While waiting for the food to arrive we took turns browsing the Fatali Gallery which was adjacent to the restaurant. It was very new-agey with soothing music and all that. The artwork was OK, but the whole vibe was just a little too intense. Fatali's claim to fame is that he doesn't use any computer enhancements in his work. OK, so what? He's still processing the images, even if he's doing it "the old fashioned way." I dunno, it was a little much for me. Some of the shots are really nice though.
Tonight was our first night in a few days with TV. We had been following all the hurricane Katrina craziness in the papers, but today we got to see footage of all the flooding, etc. It was weird that we were having the time of our lives while so many people's lives were getting ruined.
I'm combining these days because we sort-of switched things up a bit. If you look at the snapshots, we were going to do Angel's Landing hike on day 8 and The Narrows hike on Day 9, but after talking about it the night before, we decided that it would be better to do both hikes on day 8 and just relax (or go on a short ride) on day 9.
These hikes were two of the best of my life. There'd been a lot of hype about Angel's Landing, and I must say the hike lived up the hype -- at least in terms of how gorgeous it was. In terms of how scary it was, I think people were exaggerating a little bit. There were definitely some sections that might be tough if you're afraid of heights, but I was picturing these pencil thin catwalk-type sections, and there wasn't really any of that.
In order to get to the Angel's Landing trailhead, you had to take one of the Zion shuttles. No cars are allowed in the park area (except on the main road through Zion.) There was construction near our stop, so we had to get off at the lodge and walk an extra mile.
The first part of the hike was on a trail leading up from the river. There were some really steep parts, maybe 25% grade or so, but it was all paved, so it was just a matter of pacing yourself. There was also a section of really tight switchbacks.
As you get higher, the trail becomes more like rock climbing 101. You are basically walking on the mountain and holding onto chains that have been fastened to the mountain. The pictures really tell it all for the rest of the climb, so just go to the set and browse the last batch of pictures before the water shots (the water is The Narrow's hike.) If you don't have a flickr account, you should sign up so you can see some of the 2048x1536 versions of all pictures. Here are a few to whet your appetite: Angel's Landing shot #1 (yes, those are my shoes) | Angel's Landing shot #2 | View at the top of Angel's Landing. Also, Joe has some great shots of this including some fisheyes.
When we made it to the top, Matt and Jill had a surprise snack for us: those yummy twisted Pepperidge Farm cookies and grapes. The view back down to the lodge (2048x1536 version shown) was incredible. Here we also saw a fat, hungry chipmunk. Oh, I almost forgot. We met another Phillies fan on the way down from the hike.
As we walked back toward the lodge, we ate our sandwiches, stopped to fill our water bottles, camelbaks, etc., and eventually took the shuttle to the trailhead for our second hike of the day: The Narrows.
As described in the previous link, The Narrows is just tremendous. We lucked out weather wise (can you say "weather karma?") and the water was clear and flowing at a nice gentle pace. I guess sometimes it can be hazy with a stronger current, making for difficult hiking.
Early into the hike you are barely wading but at times it got chest deep. I had my camera in a ziplock bag in my buttpack so when the water got deep I had to hang my it around my neck. It was nearly impossible to take good pictures here because there are basically 1000+ ft cliffs on either side of the river. Here's one decent narrows shot, one more (rotated), and one more, but you might be better off browsing the web if you're interested in more. We only hiked up about 2 miles before we had to turn around. I guess it goes on for 10 or 12!
On that note, there are tons of reviews, more pictures, and detailed descriptions of these hikes on the Internet. Just google for Angel's Landing Zion and Narrows Zion to see what else there.
After the hikes Matt and Jill prepared a little wine and cheese party for us (which we enjoyed on the nice grassy area below our hotel) but there wasn't any wine, so we drank apple beer.
For dinner we went to the Switchback Steakhouse which turned out to be a bit of a nightmare. When we were on the shuttle to the restaurant, the driver warned us that that Switched sucked and we should go to the other place across the street (I forget what it was called.) He said we'd be sorry. We took our chances anyway, and from the looks of the kitchen, it looked like it was going to be awesome.
The problem wasn't the food. Chuck and I had a decent steak, Sarah's scallops were awesome, and the dessert (a sorbet) was out of this world. The problem was the service. It was absolutely horrible. It's not like the place was crowded -- what was it, a Wednesday? I mean come on. Here's an example, they bring out half of the salads, and then it seriously took them more than 5 minutes to bring the rest of the salads. Salads! How hard is it to get the timing right on salads? We're talking SALADS, here. When you read this, imagine Iverson talking about "practice."
After dinner, Matt, Jill, Sarah, and I hit the hot tub for a while and then we called it a night.
The next morning, Day 9, was all about leisure for me. After getting breakfast at The Spotted Dog (we also ate there on Day 8) I went down to the pool, listened to my ipod, got some sun, and just did a whole lotta nothing.
We had one final lunch together and then it was time to head back to St. George. In St. George, I hopped a ride to Vegas w/ Sarah, while the rest of the folks hit the shuttle back to the airport. Sarah was headed to LA but was staying in Vegas that night with her brother. She dropped me at the Luxor, where I was to meet Heather, and we said our goodbyes.
The goodbyes were short-lived, however, because later that night, Matt, Jill, and Sarah met Heather me for a night on the town. Of course, what happens in Vegas stays in Vegas, so that's all I'm going to say about that.

Want to comment on this? Do it here.



---

Home | John | Heather | General | Photos | Married | Wallpaper